Leader français indépendant dans les services d'exécution des transactions financières, Aether Financial Services a été fondée en 2015 par 2 anciens banquiers d'affaires.
Basée à Paris et Londres, Aether Financial Services est composée d'une équipe pluriculturelle de plus de 25 personnes, experts dans 3 métiers :
Agency : Présent dans la Private Debt et le Capital Markets, Aether Financial Services intervient comme facilitateur des opérations de financement, intervenant sur l'ensemble des rôles d'agents (Loan agent, Bond agent, Administrative agent, Calculation agent, Paying agent, Security agent, etc).
Valorisation et calcul : La société valorise tous types d'instruments financiers ou de valeurs mobilières, des plus « vanille » aux plus structurés, pour des besoins récurrents, spécifiques ou ponctuels. Elle intervient sur un scop assez large de thématiques, allant de la valorisation d'entreprises, à celles de dettes et de dérivés, avec une approche combinant analyse financière et modélisation quantitative.
Corporate and Issuer Services : Aether Financial Services propose un ensemble de Services à valeur ajoutée en constante évolution dédiés à la gestion de la vie des opérations sur financières s'appuyant sur des solutions digitales propriétaires (augmentation de capital ou souscription, assemblée générale, tenue de registres, etc.).
Disposant d'une très large base de contacts internationaux en développement chez les émetteurs, fonds d'investissements et cabinets d'avocats ainsi que d'une notoriété croissante, AFS a élargi peu à peu ses offres de services à valeur ajoutée pour proposer un ensemble cohérent de solutions à ses clients (Agency, Valorisation, Gestion des Assemblées générales et Registres de porteurs de titres, …).
DESCRIPTION DU POSTE
Rattaché(e) au Managing Director en charge de la BU Valuation and Calculation, en votre qualité de Valuation & Calculation Senior Associate/VP vos missions seront les suivantes :
Vous avez la responsabilité de la réalisation de l'ensemble des missions de valorisation et calcul, depuis l'interaction avec les clients et leurs conseillers pour définir le périmètre de notre intervention et identifier les problèmes potentiels, l'analyse de la documentation, l'élaboration de la méthodologie d'évaluation, la collecte d'information, la modélisation et la mise en œuvre, la rédaction de rapports détaillant le travail et les résultats, la discussion avec les clients, les conseillers, les auditeurs…, et vous pourrez être amené à réaliser directement certaines missions.
Vous encadrez une équipe de 2 personnes constituée d'un analyste confirmé et d'un stagiaire, qui sera amenée à se développer avec l'extension de nos domaines d'intervention
A ce titre vous êtes responsable de la bonne marche de nos routines quotidiennes de valorisation et de calcul qui fixent le prix d'un certain nombre de produits structurés et à revenu fixe et de leur communication précise aux clients.
Vous gérez le travail de développement de nos outils de pricing ainsi que ceux dédiés à l'interaction avec les clients, par exemple pour l'administration et la comptabilité des plans d'incitation des employés ou l'évaluation des portefeuilles de titres.
Vous êtes impliqué dans le marketing des services de valorisation auprès des clients existants et des prospects, en participant à l'étude de marché, aux présentations et aux réunions, à la préparation des présentations et des réponses aux demandes de propositions, à la réalisation de recherches régulières sur des sujets d'intérêt, tels que les paramètres de tarification, les produits financiers spécifiques, les implications des changements réglementaires.
Vous contribuez à des projets plus transverses ou connexes concernant le développement, la stratégie ou le pilotage de l'entreprise.
À ce poste, vous serez en contact direct avec les clients dans un grand nombre de contextes liés aux marchés des capitaux, tels que ECM/DCM, produits dérivés, LBO, fusions et acquisitions, et interagirez avec les émetteurs, les conseillers financiers et juridiques et les investisseurs. Vous devrez gagner la confiance des clients par une exécution soignée et devenir un élément moteur de la croissance de notre activité.
VOTRE PROFIL
Savoir-faire
Vous avez une expérience de 3 à 5 ans au sein d'un département actuariat ou de valorisation d'un « big 4 » / cabinet de valorisation ou d'actuariat / entité intervenant dans le corporate finance / gestionnaire d'actifs, ou similaire.
Vous avez une formation académique de niveau Bac+5 (ou plus) en matière de finance d'entreprise et/ou d'actuariat, acquise dans une université ou une grande école de premier plan.
Vous cherchez à entrer dans un secteur des services financiers en pleine expansion
Vous avez des connaissances en IFRS notamment IFRS 2 (une qualification CFA serait un plus)
Vous pouvez apporter votre solide capacité à comprendre et à modéliser des produits financiers complexes, lire de la documentation contractuelle complexe et l'interpréter.
Vous maîtrisez Excel / VBA et Python et avez une connaissance avérée de la suite Office.
Très bonne aisance rédactionnelle et orale en français et Anglais
Autres langues vivement souhaitées : notamment Allemand ou Espagnol
Savoir-être
Sens du travail en équipé, capacité démontrée à encadrer des collaborateurs plus juniors à fort potentiel,
Ecoute et capacité à se mettre au niveau des interlocuteurs,
Accountability et sens de la relation client,
Disponible, très motivé(e),
Méthodique, particulièrement organisé(e) et rigoureux(se),
Force de proposition, autonomie et prise d'initiative.
LES AVANATAGES DE TRAVAILLER AVEC NOUS
Une entreprise innovante et en forte croissance,
Une expérience riche et intense, avec des projets visibles,
Package compétitif et extensif.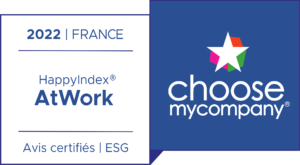 DATE DE DEBUT DE CONTRAT : Novembre 2022
LIEU DE TRAVAIL : Paris
LIEU : Paris 8ème.
DURÉE : CDI
Si vous vous reconnaissez à travers cette description de poste et que vous êtes prêt(e) à rejoindre une entreprise à forte croissance avec une équipe très dynamique, axée sur les affaires, n'hésitez pas à nous envoyer CV et lettre de motivation à l'adresse mail suivante : jobs@aetherfs.com avec la référence « SENIOR ASSOCIATE/VP VALUATION et CALCULATION ».