Independent French leader in execution services for financial transactions, Aether Financial Services was founded in 2015 by Edouard Narboux and Henri-Pierre Jeancard. Based in Paris and London, Aether Financial Services consists of a 20-person-plus multicultural team, who are experts in three business lines.
Based in Paris and London, Aether Financial Services is made up of a multicultural team of more than 25 people, experts in 3 professions:
Agency services: Aether Financial Services operates in the private debt and capital markets, covering all agency roles: loan agent, bond agent, administrative agent, calculation agent, security agent, etc.
Valuation and calculation: The company values all types of financial instruments or securities, from the most « vanilla » to the most structured, for recurring, specific or occasional needs. She intervenes on a fairly wide scope of themes, ranging from the valuation of companies to those of debts and derivatives, with an approach combining financial analysis and quantitative modelling.
Corporate and Issuer Services: Aether Financial Services offers a set of constantly evolving value-added services dedicated to managing the life of financial transactions based on proprietary digital solutions (capital increase or subscription, general meeting, record keeping, etc.).
With a very broad base of developing international contacts among issuers, investment funds and law firms as well as a growing reputation, AFS has gradually expanded its value-added service offerings to offer a set of coherent solutions to its clients (Agency, Valuation, Management of General Meetings and Registries of security holders, etc.).
JOB DESCRIPTION
In your capacity of Valuation Analyst:
You will carry entire valuation assignment, including interaction with clients and their advisors to define the scope of our intervention and identify potential issues, information gathering and analysis of the  documentation, elaboration of the valuation methodology, modelling and implementation, writing of  reports detailing the work and results, discussion with destinaries (client, advisors, auditors…).
You will be involved in the marketing of valuation services to existing clients and prospects, assisting on  the market research, pitching and meetings, the preparation of presentations and responses to requests for proposal, the performance of regular research on topics of interests, such as around pricing  parameters, specific financial products, implications of regulatory changes.
You will help expand our tools and dedicated client interaction software, such as for the valuation of  portfolios of securities or incentive plans.
In this position you will gain direct client exposure in a large number of capital markets settings, such as ECM/DCM, derivatives, LBOs, public M&A, interacting with issuers, financial and legal advisors, investors. You  will be expected to gain client trust by careful execution and to become a driving force for the growth of our business.
YOUR PROFILE
You are highly motivated, entrepreneurial, independent, and hungry to learn, you are looking to  move into a fast-growing area of financial services.
You can contribute your sound ability to read financial and corporate documentation and extract relevant information, and to comprehend and model complex financial products.
You are also genuinely curious about corporate clients and their businesses.
You have a Bac+5 (or more) academic training on matters of corporate finance, gained at a leading university or « grandes écoles ».
You have ideally 1 year experience in a corporate finance, capital markets settin.
You have training in accounting and IFRS (CFA qualification would be a plus).
You are proficient in Excel, VBA and possibly Python.
You are fluent in French and have a solid practice of English.
Other languages strongly desired: in particular German or Spanish.
THE ADVANTAGES OF WORKING WITH US
An innovative and fast-growing company
A rich and intense experience, with great projects
Working in a multicultural team
Luncheon vouchers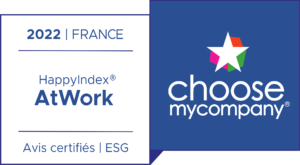 Aether FS labelisé HappyIndex AtWork
START DATE: December 2022
LOCATION: Paris
TYPE OF CONTRACT: CDI
SALARY: Competitive
TO APPLY: Send us a CV and a cover letter to "jobs@aetherfs.com" and please, refer to "Valuation Analyst".